Hello friends and fellow meme lovers! A few weeks ago on Twitter (go follow me!), I asked y'all for your favourite memes.
And y'all did not disappoint. There were some good memes. So today, I'm giving recommendations based on those memes! This was a lot harder than I thought, but also a lot of fun.
Christine gave us a great, classic vine. This is honestly one of my favourite vines, and every time I say "that's my opinion", I end up saying it like this.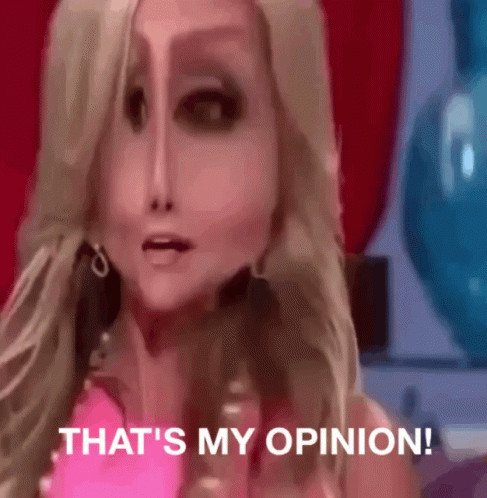 For this vine, I focused on books with a lot of yelling and drama. For that, I would recommend:
The Thousandth Floor by Katharine McGee: this book has been touted as "Gossip Girl in the future", and after having read it, I completely agree. It's full of unnecessary drama and yelling and also features at least one meltdown, much like this vine.
The Undomestic Goddess by Sophie Kinsella: another book full of fun and drama that will 100% make you laugh.
One of Us is Lying by Karen McManus: drama all around! But still highly entertaining.
---
Stonks is one of the greatest memes out there, don't @ me. My brother is in business, and is apparently tagged in this meme at least monthly.
So I definitely struggled a bit with this one, but I think I have a couple good recommendations. When I was talking to my brother about this meme, he said, "you need a book that makes fun of finance bros."
When the Bough Breaks by Jonathan Kellerman: if you are a finance bro or similar to a finance bro, you might like When the Bough Breaks. The Alex Delaware series is one of those series that Smart People like to read and promote to make themselves seem Relatable (think Lee Child or James Patterson). It's not amazing, it's actually pretty bad, but it's entertaining nonetheless.
The Secret History by Donna Tartt: if you like to make fun of finance bros, this book could be for you. TSH is about pretentious characters and how pretentiousness will lead to disaster.
My friend Blossom drunkenly said "Law of Partnerships and Corporations" lmao
---
From Ellyn @ Allonsythornraxx: Spider man pointing meme
I also love this meme, it's such a great one.
For this meme, I recommend
Fight Club by Chuck Palahniuk: I won't explain too much so as not to spoil the book, but trust me.
Dark Matter by Blake Crouch: ditto here. But there's one scene near the end where almost this exactly happens.
I love this meme so much, so cheers to Samantha for sending it. My sister also suggested this one, so it's a popular meme.
And Then There Were None by Agatha Christie
The Seven (and 1/2) Deaths of Evelyn Hardcastle
I feel like these are pretty self-explanatory, but they're both mysteries and they both contain confused female characters. I would highly recommend both of them if you're looking for a good mystery.
If you want something less intense than either of those, I'd recommend:
The Face on the Milk Carton by Caroline B Cooney: this is a middle grade book about a girl who, one day, sees herself on one of those missing kids posters. It's a super easy read, but still entertaining.
The Truth About Forever by Sarah Dessen: Macy, the main character of this book, definitely has her Dumb Bitch moments, despite being very smart.
The Book of Essie by Meghan Maclean Weir: in this book, Essie is the smart one and everyone else around her is the one going ???
Haters by Alissa Valdes: again, the main character in this book is definitely confused at times.
---
From Callum: Carrie Fisher doesn't care (right now)
The Queen Carrie herself, gracing my post.
Americanah by Chimamanda Ngozi Adichie: I just feel like the main female protagonist, Ifemelu, would say what Carrie Fisher is saying. I also feel like Carrie Fisher herself, in the book of life, was an unlikeable female character, which is what Ifemelu totally is.
The Most Dangerous Place on Earth by Lindsey Lee Johnson: again, I can picture some of the characters in this book having the "I don't care right now" attitude, and I think it really fits.
This meme made me laugh so hard I cried. I tried to explain it to someone and just sounded insane.
To be perfectly honest, I had no idea what the fuck to put for this meme. I showed it to my dad and he went "is the pelican going to shit on him?"
When I asked my sister what books she thought matched, she said "literally nothing. Maybe a spy book where they use a code?" So, going off that description, I'd recommend Independence Hall by Roland Smith. It's about a boy and his step-sister who do some spy stuff? And the president makes an appearance at the end, so I can tie it in that way, too!
Based solely on cover design, I'd recommend Women Talking by Miriam Toews. The cover is kind of similar to the meme, right?
Finally, Night Film by Marisha Pessl has some interactive, multi-media elements. This meme is just a tweet that someone altered. Like, if it was a physical art piece, it would definitely be multi-media, you know?
These recommendations were very out there, but I did my best, okay?
---
From Rick @ Another Book Vlog: don't talk to me ever again aka the funniest meme I've seen in a good while
Shout out to Rick for sending the funniest meme I've maybe ever seen in my life.
Once again, I didn't know what the fuck to do for this meme. The obvious answer would be Animorphs, but that seemed too easy.
The Raven Cycles series by Maggie Stiefvater: okay hear me out. This meme is basically just Gansey and the rest of the gang. I mean, Gansey is really just a scrawny white boy (a rich white boy, but a white boy with insomnia nonetheless) so him sticking up for anyone kind of has this vibe. Did this make any sense? This is what I'm picturing:
Nimona by Noelle Stevenson: because Nimona is a shapeshifter, get it? Also this is 100% something she would say.
The Dog Who Wouldn't Be by Farley Mowat: because it's about a dog and it's funny, much like this meme.
Homegoing by Yaa Gyasi: because the book happens over several generations. Do these recommendations make sense anymore?
---
Me passing by any road sign, regardless of what it says: I sure hope it does!
My family: 😒😒😒
For these recommendations, I focused on sarcastic books or books with sarcastic or sassy characters.
The Martian by Andy Weir: The Martian is one of the most sarcastic books I've ever read, and I feel like Mark Watney would 100% love this vine.
Good Omens by Neil Gaiman and Terry Pratchett: also Crowley would make this joke and then Aziraphale wouldn't get it.

Tiffany @ Bookish Tiffany: I didn't get no sleep cause of y'all
Another good, classic vine/meme. We love her.
For this, I did books that were compulsively readable, because I didn't sleep because of them, with strong female characters. Get it?
Strange the Dreamer by Laini Taylor
Six of Crows by Leigh Bardugo
A Darker Shade of Magic by V. E. Schwab: I can 100% see Lila doing this exact thing to anyone who bothers her.
The Seven Husbands of Evelyn Hugo
The Lonely Hearts Hotel by Heather O'Neil
---
Rebecca @ Bookishly Rebecca: the Jo Bros are back together!
In typical Becca fashion, she's mentioning the Jonas Brothers whenever she can.
Conversations with Friends by Sally Rooney: get it, because it's a conversation? A social gathering with conversation?
Angus, Thongs, and Full-Frontal Snogging by Louise Rennison: I just feel like Georgia Nicholson would be similar. If her favourite boyband got back together, she would also bring them up at any point she could.
---
Emily submitted a bunch of good memes. Unfortunately, I could only come up with recommendations for one of them (and even that was a stretch), but I put the other ones so we can all laugh too.
A gooder. For this, I did feminist books where the characters tell men to shut up. Because that's similar enough, right? Like, "don't let anyone say sexist shit" instead.
The Female of the Species by Mindy McGinnis
Sawkill Girls by Claire LeGrand
The Yellow Wallpaper by Charlotte Perkins Gilman
---
I love this meme a lot, too. It's so good. Someone put this on my grave, please.
One of the best examples of internet discourse.
One of my faves.
So that's that, folks! There are some recommendations based on your favourite memes! Thank you so much to my friends for sending me memes. Sorry some of these made literally no sense, but I hope it was fun to read nonetheless.
But anyway, do you have any recommendations based on these memes? What are your favourite memes? Maybe I'll do a part 2, we'll see. Was this the dumbest post you've ever read? Let me know!
Thanks for reading! xx